When I was a kid, my stepmom tried to teach me how to crochet. That didn't go as well as either of us hoped. I eventually learned how to crochet a stitch, but I could never double back to make a second row, much less a third or fourth. None of my crochet projects ever made it past the "really long chain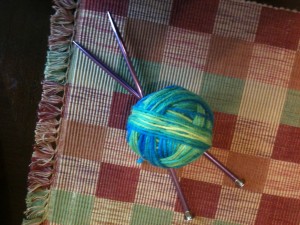 of yarn" stage.
Flash forward to this December when I was scouring the stores in town (all three of them) looking for some inexpensive slipper socks, just something simple and cheap that I could wear around the house and toss in the wash every few days. I found plenty of slippers and lots of socks, but the only slipper socks I could find were $5 to $10 a pair. I might pay that for something handknitted by an indie crafter using high quality yarn, but for something that cost maybe, maybe 50 cents in yarn and would have been cranked out in 30 seconds by a machine in a factory? Forget it. I'd learn how to knit them myself. How hard could it be?
Yeah, because I'd done sooooo well at crocheting. And this time I didn't even have anyone to teach me.
Still, that was thirty years a long time ago. Besides, yarn's cheap. Knitting needles are, too, so even if I ended up tossing the whole mess in a drawer as a bad attempt, I'd be out no more than a pair of those overpriced store slipper socks.
A word of warning here. When I get excited about a project, I tend to overbuy. Ooo, I think, I could make such-and-such with this. Or I could do such-and-such with that. Chad cringes every time he hears those four little words: "I had an idea…"
This time, though, I decided to be smart. One skein of yarn. One pair of knitting needles. A free project pattern. And if I finished that first project, I could buy more. I didn't even buy a "teach yourself to knit" book or sign up for a class. I searched the web and found a site with free instructional videos: knittinghelp.com, which I highly recommend to anyone interesting in learning to knit.
I struggled at first. I could not figure out casting on for the life of me. I burned through massive amounts of bandwidth watching those knittinghelp.com videos. I even made Chad watch them, and then watch me try it to see what I was doing wrong.
Slow going to say the least. But eventually it clicked, and one row turned into two, then three, then more.
I scheduled time each day to knit. A half hour here, an hour there. I started knitting at night while we watched TV. After we got back from my dad's funeral in Kentucky, I couldn't think straight enough to write, so I lost myself in knitting instead. And then early last week, I finished this:
Not bad for only picking up my first set of needles a month ago, eh?
The pattern is called Heartwarming. It's a simple one that uses nothing more than knit and purl stitches. Perfect for a beginner like me, and yet it looks anything but plain.
The yarn is called Banana Berry Print and is part of Red Heart's Super Saver Economy line. A bit coarser than I'd like, but I'm happy to report that after washing it once, it's softened up considerably. Hopefully washing it a few more times will take the last bit of roughness out of it. If not, I'll probably stay away from the Super Saver Economy line for future projects. I can get softer yarn for not much more money, both from Red Heart and from other manufacturers.
I've already started my next knitting project, a pair of armwarmers in a light blue yarn from Caron's Simply Soft line to coordinate with this scarf.  And after picking up a stitch dictionary, some knitting magazines, and several skeins of yarn from a variety of shops like Michael's, A.C. Moore, and Gate City Yarn in Greensboro, I've got my next few projects planned. I'll post pics of each as I get them done.
My whirlwind tour of yarn shops this weekend did teach me that not all yarn is cheap. Although the Banana Berry yarn I used for my scarf only cost $2.37 a skein at Walmart, I don't think I saw any yarn for less than $10 a skein at Knit Picky in Winston-Salem. Gate City Yarn had some unbelievably gorgeous silk yarn that was $56 a skein. But we're talking great yarn like cotton, linen, alpaca, wool, bamboo, and, of course, that lovely silk. Handspun, hand-dyed, handpainted. Definitely worth the premium price. And definitely out of my league right now.
________________________________________________________________
Do you knit? What was your first project? What are you working on now? Post in the comments below. I'd love to hear from you, or even see pictures of your projects.